The challenge of managing Computer System Validation (CSV) is common among Life Sciences Organizations. To address this, Integrity has developed a pre-trained application that utilizes leading technology, aiming to reduce the impact of CSV on your project and operations. 
This application provides various benefits, including a document dashboard with real-time and historical document status, continuous and real-time evaluation of new documents, elimination of the back-and-forth of Word documents, improved document quality for IT R&C review (Right First Time), increased document throughput and capacity, shifting responsibility to the document author, empowering CSV engineers to focus on higher-value tasks, a product roadmap with ongoing enhancements and releases, and a Software-as-a-Service model. 
The application's key goals are to automate the process, improve document turnaround time, provide real-time analysis, ensure consistent and standardized feedback, increase document throughput, and promote Right First Time principles.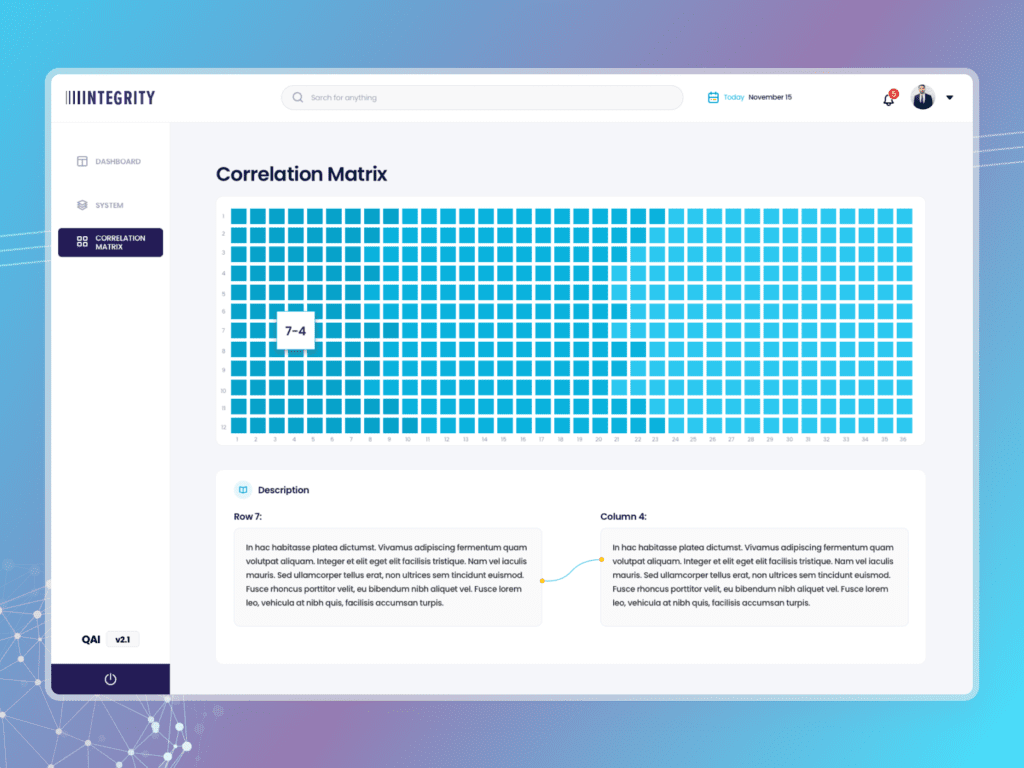 Initially, QAI relied on rule-based systems and basic Natural Language Processing (NLP) techniques. In order to enhance QAI's intelligence capability, Integrity sought assistance from INNOVANT, a specialized company in Machine Learning (ML) and Artificial Intelligence (AI). 
INNOVANT's expertise in advanced ML and AI techniques was instrumental in improving QAI's intelligence and functionality, paving the way for a more sophisticated and effective version of the software
The next version of the software was built to enhance previous QAI's capabilities. In addition to conducting a structural analysis of the document, which included checks on author and approver tables, revision history, header/footer, signatures, roles, date format, versioning, Table of Contents (ToC), formatting, and metadata, QAI also incorporated content analysis. This content analysis feature enabled QAI to measure requirement text compliance, providing a comprehensive evaluation of documents. By integrating these advanced capabilities, QAI offered a more robust and intelligent solution for quality assurance in Life Sciences Organizations.
The approach employed involves the utilization of various techniques to enhance QAI's intelligence and analysis capabilities.
Keyword Analysis: By analyzing thousands of requirements, the most frequent keywords are identified from the training set. This helps identify the main terms and relevant concepts, establishing the proximity between the requirement being analyzed and the terms in the Requirement Reference Table. The result is a keyword score that provides an overall understanding of the requirement.
Compliance Best Practice Analysis: A compound score is generated to assess the compliance of a requirement with a set of well-written requirements. This score is derived from three main analyses:
Analysis of the most common grammar structure in the Requirement Reference Table.

Calculation of a similarity score against the Requirement Reference Table to determine how closely the requirement aligns.
Evaluation of the complexity score relative to the complexity of the Requirement Reference Table, measured using the Automated Readability Index.
Once all these analyses are conducted, a compound score is generated, providing an indication of compliance.
Grammar and Spelling Analysis: The requirement is evaluated for grammar, style, and spelling errors. The score is based on the number of errors found, starting at 100% and reducing for each identified issue.
Through these techniques, QAI can effectively analyze requirements, assess compliance with best practices, and evaluate grammar and spelling accuracy.
Introduction of the document dashboard for real-time and historical document status tracking.
Resulted in a 35% reduction in document review cycles, enhancing document turnaround time.
Enabled continuous real-time evaluation of new documents, leading to a 50% reduction in back-and-forth exchanges, improving CSV process efficiency.
Application's focus on Right First Time (RFT) principle:
Observed a 60% increase in RFT post-implementation.
Reduced the need for document rework and re-approval, saving time and effort.
Automation of the process and shifting responsibility to document authors:
Empowered CSV engineers, boosting their productivity by 40%.
Implementation of content analysis:
Calculated Return on Investment (ROI) based on hours saved by CSV engineers.
Estimated an average rate of $60 per hour for CSV engineers.

Saved approximately 15 hours per week per engineer, resulting in cost savings of $900 per week.

Over a year, 

this totaled $46,800 per year for each engineer.
With an organization employing 10 CSV engineers, the total annual savings amounted to $468,000.
These substantial savings, when compared to implementation and maintenance costs, demonstrated a significant positive ROI, validating the investment in the technology. This not only improved efficiency and productivity but also generated substantial financial benefits for the organization.
Reduction in document review cycles
35%
Reduction in back-and-forth exchanges
50%
Increase in RFT post-implementation
60%
Increased productivity of engineers
40%
Savings in engineer hours/week
37.5%
Annual/engineer cost savings
37.5%
"INNOVANT delivered custom software good enough to be presented as PoC to two potential clients of the IT consulting firm. The client had direct access to the team. They handled different parts of the project with minimum supervision from the client. Moreover, they produced progress reports weekly."